At Lye Cross Farm Shop we believe that only the best is good enough for the family dinner – and it's even better when the highest quality comes at a great price.
Farm Shop Opening Hours
Monday 8am – 6pm
Tuesday 8am – 6pm
Wednesday 8am – 6pm
Thursday 8am – 6pm
Friday 8am – 6pm
Saturday 8am – 5pm
Sunday 10am – 4pm
Fresh, locally sourced produce
The Farm Shop boasts fantastic butchery, cheese, delicatessen and bread counters, with milk, bread, fruit and veg delivered daily from the local market.
Our butchers are on hand 7 days a week with advice on cuts of meat and those all important cooking instructions! Beef is reared on the family farms and is sold alongside locally sourced lamb, pork and poultry.
The Farm Shop has fresh fish delivered every Thursday, has a great range of local beers, cider and wine, and is a must-see, one-stop shop for great quality produce at excellent prices.
Our Award Winning Cheddars
The Farm Shop is a unique in-sight into what happens at Lye Cross Farm and gives you the opportunity to enjoy our award winning Cheddars only metres from where they are made.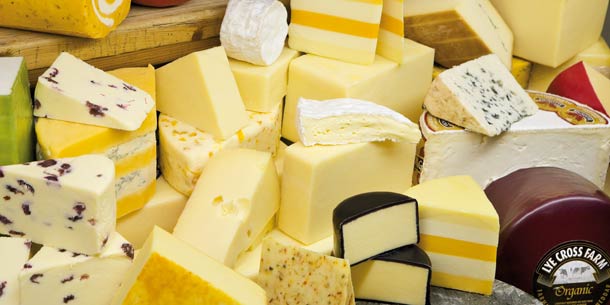 Set in the heart of the site surrounded by the dairy and packing facilities, the cheese is aged just metres from the tills and the range is graded and hand picked to sell in the shop. We stock the full range of Lye Cross Farm Cheddar in pre-packed portions and blocks, and is sold alongside a huge range of other popular cheeses picked regionally or because they are "must-have" for any cheese lover's fridge.
Register for a Loyalty Card
Collect points as you shop*
Spend points& treat yourself!
In our shop today and
watch your points stack up!
Earn points when you spend over £1* at Lye Cross Farm Shop
Spend your collected points instore and save money!
Enjoy exclusive Loyalty Card offers
Plus, sign up to our emails to be first to know about competitions, events and exciting new products
Are you in need of a present and struggling for ideas? Introducing the Lye Cross Farm Shop Gift Card – the perfect present for all occasions.

Flexible
Our Gift Cards are available from as little as £10 to £150.

Easy
Simply claim its value against any of our farm shop products
Perfect
A perfect present or show of appreciation for any occasion.
Pick up a Gift Card instore today!
---
---
Fresh Rolls
We make delicious fresh rolls and carvery rolls daily.
Call us to pre-order on 01934 864613
Cheese Towers
We can help you select your bespoke cheese tower from our vast range of cheeses for every budget. We can offer delicious local regional and continental cheese towers for your wedding, birthday or any other function.
---
Where to find us:
---
Lye Cross Farm Loyalty Card Terms and Conditions
You must be 18 years or over to be eligible to become a Lye Cross Farm loyalty scheme member
You will receive 1 point for every £1 spend within the Lye Cross Farm Shop when the Lye Cross Farm Shop loyalty card is presented.
Points will not be issued against purchases of gas.
Points can only be collected at the time of purchase with a valid Lye Cross Farm loyalty card. Points cannot be collected retrospectively or added at a later date.
Lye Cross Farm loyalty cards and points remain the property of Alvis Bros Ltd at all times and may not be redeemed for cash and have no cash value.
We reserve the right to terminate your Lye Cross Farm Loyalty card scheme membership if, in our opinion, you commit any act which we deem inappropriate. If we terminate your membership, all outstanding points which you have accrued, will be immediately cancelled and no cash payments or other compensation will be provided.
Our terms and conditions are governed by and construed in accordance with the laws of England and we both agree to submit to the exclusive jurisdiction of the English courts in relation to any dispute, issue or other matter which arises between us.
All offers are subject to availability.
Lye Cross Farm Loyalty scheme points may not be sold or transferred to any other individual or collector.
You can terminate your membership at any time by advising us in writing. Any outstanding points which you have accrued will be immediately cancelled and no cash payments or other compensation will be provided.
By joining the Lye Cross Farm loyalty scheme you agree to sign up to our newsletters and receive updates, offers and promotions by email and or mail.
This information contained in the above rules are subject to change without notice. We may at any time vary these terms and conditions by publishing the varied terms and conditions on our website. You accept that by doing this, we have provided you with sufficient notice of these changes unless you have opted out of receiving this information.
The information and materials connected to the Lye Cross Farm Shop loyalty scheme cannot be replicated without prior written permission. You may not post, distribute or reproduce and copyrighted material, trademarks or other proprietary information without obtaining owner permission of such rights.
Use of the Lye Cross Farm Shop loyalty card implies full acceptance of all terms and conditions of use.
Alvis Bros Ltd reserves the right to change or withdraw the Lye Cross Farm Loyalty scheme at any time and without prior notification.
Instagram Competition Terms and Conditions
£10 voucher for spending in Lye Cross Farm Shop will be issued to the first 10 people sharing on social media and tagging Lye Cross Farm.
Only one voucher per vehicle charged.
The decision to award a voucher is totally at the discretion of Alvis Brothers Ltd and the Managing Director's decision is final.
By entering you agree to the post being shared across multiple social media platforms.
There is no cash alternative to the prize.